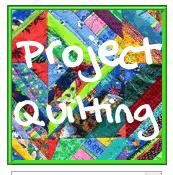 Oh wow...I was initially really stumped when the first challenge for this season of
Project Quilting
was posted...I had NO idea what I was going to do...and I love architecture, in particular that of Frank Lloyd Wright...something about the clean lines, modern feel...yet at harmony with it's environment...but how to convey that in a quilted piece...
so I hit the internet...just a random "architecture" in the search bar, and then images...and ta-da...one of the first ones up:
I was blown away! And I knew instantly what my inspiration would be...sort of...at first I thought I could create a reproduction of the image above using fabric...but I was really concerned about working with so many angles and having to bind an incredibly odd shaped piece...but I was intrigued by the play of shadows and how the color of the building appeared to change depending on the angle of the sun, where the photo was taken from, etc. I then came across this image:
and BOOM! I knew exactly what I wanted to do! I love how the view inside the building, with the sunlight coming in the windows created so many different angles and shapes, so my goal became to recreate the above image, using only solids, to give the play on light and dark.
Here is my piece:
I love it! It finishes approx. 13 x 15 and all fabrics were pulled from my stash and scrap pile. The thread used for the quilting (Gutterman) was $2.77 on sale.
Oh and note the FMQ? Yeppers! Cross off
2012 Goall #11!
More on that later!
You can check out the other
Project Quilting
projects at the
PQ Flickr group
.