This week at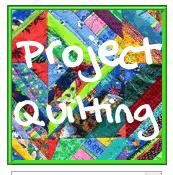 the challenge was Music
...which normally is no problem for me, I'm usually blaring the music when I'm sewing...or doing just about anything these days...and lately I've been 100% hooked on Mumford & Sons and Green River Ordinance...I mean...morning, noon and night I've got those two playing...but as much as I love their music...nothing solid came to mind when it was time to start putting together my piece...so I switched it up...put the iPod on shuffle, and it hit me, "You're My Home" by Billy Joel. LOVE IT! and that led to this:
I originally wanted to print a picture of Girl and Guy on fabric and make that the bottom window, but I cannot find the fabric printing stuff I have (I think it's an iron-on thing)...so I put together the house without the picture, but it just wasn't "enough" (not to mention in person the house is really really wonky...so I needed something to help with that!). So I used velcro to add my picture! I like it much better now...
I dug into my scrappy stash for a few bits and bobs, some ribbon from Tim Holtz idea-ology that I dyed using my Peeled Paint Distress Stain, and added a button for a door knob and a bit of Prima flowery bling to add a "tree" to balance out that side.
It's a very very rough idea of our actual house...only our grass is never as neat or as green as the quilt!
The finished mini is 12" x 10", all created from my fabric stash (Kona and Bella solids, and a bit of Sandy Gervais' Giddy line for the sky).
Have a great Sunday!